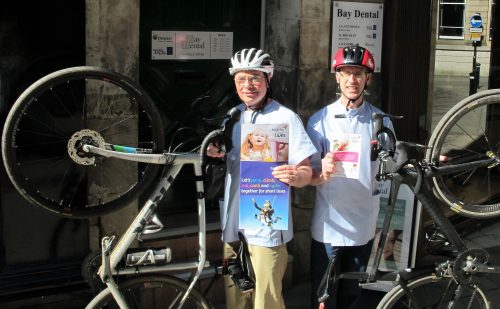 Bay Dental's 24 hour Isle of Man TT cycle challenge will take place on 23 – 24 September 2017.
"Neil and I have decided to complete the Isle of Man TT Mountain Course as a 24-hour bicycle race to raise money for the children's charity Together for Short Lives. Completing a challenge of this size will no doubt give us a great sense of achievement, while at the same time raising money to better the lives of those less fortunate.
The charity Together for Short Lives is a UK charity for children and young people who are expected to have short lives. The charity strives to help children and their families have as fulfilling a life as possible, providing them with the best care and support. Together for Short Lives relies mainly on fundraising, therefore any donations and support will be greatly appreciated.
The TT Mountain Course consists of 38-mile laps covering 2132 feet per lap and with the usual mode of transport being a motorcycle, we have chosen the tamer (I hope!) bicycle. Follow our training journey below and keep updated with our race on 24th September. Thank you for your support!"