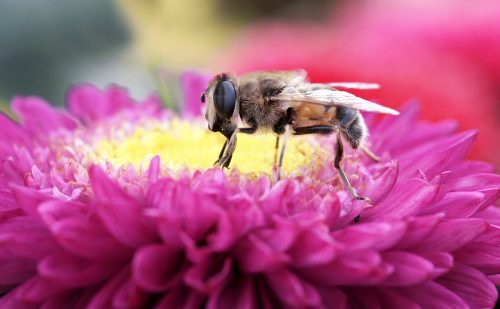 Honey bees are the UK's most important pollinating insects and are estimated to contribute some £200m annually to the economy. Yet for the last several years they have been in serious decline.
Bees love gardens. In fact bees are more likely to call our gardens home than anywhere else in the UK, favouring our plots to grassland or woodland. However these charming creatures with their brightly coloured bodies and in the case of bumble bees, erratic bumbling flight, are struggling for survival.
The honey bee has been suffering heavy over-winter colony losses due to disease. Of the UK's 27 species of bumble bee, three are now nationally extinct, largely due to habitat loss. Others such as the Shrill Carder and Great Yellow are of particular concern due to their very small populations.
That is where we can come to the rescue. Collectively our great British gardens are the largest nature reserve in the UK. Whether we use our green space for pleasure or as a vegetable plot we can all enjoy the rewards of planting for bees.
Whether your garden be a balcony, allotment, window box, hanging basket, pots and tubs or a swathe of green open space we can all provide honey bees and other insect pollinators with a banquet of pollen and nectar throughout the year.
If you want to help one of mankind's best friends, and we all should, go to your local garden centre and ask for plants best for bees or go to the RHS web site and look up the perfect for pollinators guide or visit the British Bee Keeping Assosiation for a list of plants by season.
www.rhs.org.uk or www.bbka.org.uk
Visit Bay View Garden Centre, Bolton-le-Sands