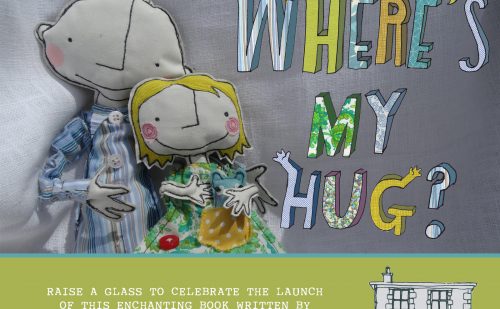 BOOK LAUNCH + SIGNING @ ARTERIA
"WHERE'S MY HUG?"
 WEDNESDAY 15TH NOVEMBER 4-6PM
 MEET THE AUTHOR + ILLUSTRATOR
'Local artist Tania Sneesby and Lancaster teacher Tim Milner are about to launch their first book, "Where's My Hug?".
 Tim, a local secondary school teacher, originally wrote the story for his daughter. The heart-warming tale about a little girl trying to find a hug for her Daddy.
 The illustration of the story, created by local artist Tania Sneesby, is a beautiful mix of intricately sewn 2-D scenes, with posed 3-D characters included to create a unique style for this uplifting story.
 "Where's My Hug?" is being officially launched in Arteria on Wednesday 15th of November between 4pm & 6pm. Both Tim and Tania will be there to talk about the book and sign copies and everyone is welcome to drop in and raise a glass with them.
 More of Tania's work can be seen in Arteria, in Lancaster city centre and also on her website; www.taniasneesby.com
 Tim and Tania wanted to make the creation of the book as responsible as possible and so have teamed up with Stramondgate Press, a printing firm from Kendal. They have created beautiful copies of the book with hand sewn spines to accentuate the detailed nature of each handmade image.
 Tania and Tim also wanted to give something back and so are sending copies of the book to many primary schools, all around the country, to add to their school library.
 "Enjoying reading is an essential foundation of developing a love of learning." said Tim. "Giving children access to stories that they can explore and engage with helps to develop their own creativity and ignite their passion for reading from an early age."
THE BOOK IS ON SALE @ ARTERIA PRICED £9.99
 PERFECT FOR CHRISTMAS! CALL IN OR CALL US TO RESERVE A COPY