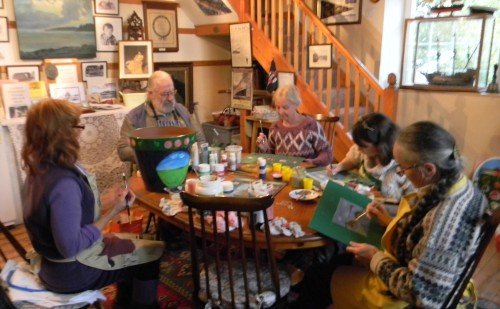 The enthusiasm by members for the newly formed canal art class is gratifying, and the class, now in its fifth session, is showing steady promise and improvement.

Artist Frank Sanderson, who started the project, said " I am extremely pleased how the whole class is developing, particularly those complete beginners with no experience whatsoever. Their work gets better every session and a good deal of that is due to perseverance with their art work done at home. To see, at such an early stage, how their individual styles are developing is very rewarding".

Celia Briar, one of pupils said- "This class has transformed the world around me. I have started to notice scenes that would make a good composition. Such a friendly group and nice way to learn"

Coming from a wide area of Lancashire to the Old School Gallery, at Crooklands, near Kendal, several travel from Lancaster and Morecambe area. Jackie Kenny, who eventually hopes to repaint the faded Roses and Castles on her boat, comes from as far afield as St Helens, near Liverpool.

Frank Sanderson. 015395 66967. Mob 0790 186 5353.