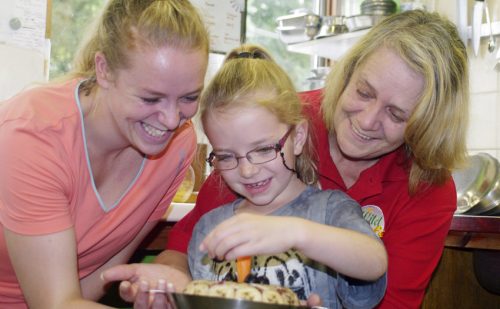 "Let's Go Bananas!", say Lakeland Oasis Staff, Ahead of Great British Bake Off Final
To mark the exciting final of TV's The Great British Bake Off, the team at a Cumbria attraction – led by a six-year-old animal fan – are planning a Bake Off of their very own.
The Wild Café at Lakeland Wildlife Oasis in Milnthorpe is a family concern. Run by Grandmother Lorraine Bennetts, her daughter Ebony and sister Michelle also work there. Little Olivia, Lorraine's granddaughter, is so enamoured with the collection of tamarin monkeys that live next to the café, that she's decided to bake them a cake! She'll treat them to a delicious monkey-safe cake on 26th October, the same day as the Bake Off final. She'll make it in the animal kitchen, where all of the tasty treats and dinners are prepared for the animals each day, before whipping out the (hopefully non-soggy-bottomed) treat for the attraction's popular inhabitants.
Olivia, who enjoys nothing more than eating her lunch from the Oasis' café while watching the monkeys eat theirs, has been eager to cook up a monkey-themed dessert for the animals for some time. Giving into her excited demands, her mother and grandmother have agreed to let her make like the Bake Off contestants and get to work on a very special cake.

Olivia is excited about what will be a fun, family affair and a chance to pretend she's in her very own Bake Off tent. Jayne Gibbins, Assistant Manager is delighted with the idea saying: "Most of the staff here are firm Bake Off fans. When Olivia approached me asking if she could make a cake for monkeys, I couldn't resist and thought we could have a bake off final of our own. We set about making a cake that the monkeys would enjoy, and as a special treat I am going to let Oliva hand feed it to them".

Anyone who's worried that the cake will be weighed down with sugar and butter needn't worry though; the dessert is completely safe for the monkeys. Made from 'tamarin cake', a high-protein specially formulated powder used in zoos to ensure all of their wild dietary needs are met, it will feature creepy crawlies just like the ones the monkeys enjoy eating in the wild. The powder is mixed with water and grated veggies and made into a cake shape, before being left to set in a special fridge overnight.

Of course, the cake will be decorated with banana slice 'icing' (a rare and very enticing treat for the tamarins!) and will even contain beetroot, ensuring it resembles a tempting-looking 'red velvet cake' for monkeys. A perfectly healthy, zoological treat, the homemade cake looks set to be devoured by the tamarins – and Olivia can't wait.
She says: "I've worked hard making a healthy cake and am looking forward to letting them take it out of my hands. Mummy wishes Paul Hollywood was here to judge it!".
Seating up to 70 people at any one time, the Lakeland Wildlife Oasis Wild Café serves homemade cakes and tea, with hot or cold meals available too. You can view the tamarin monkeys for free from the café – there's no need to buy a ticket to the attraction.
For more information about any of the events taking place at the Oasis throughout the rest of the year, please head to http://wildlifeoasis.co.uk