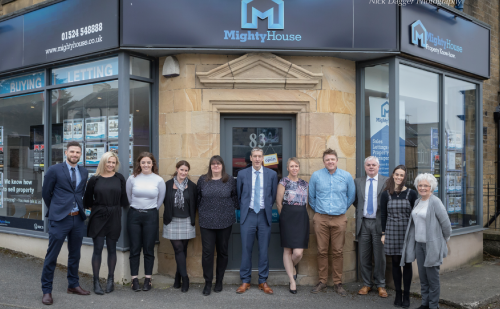 Selling your property in the Lancaster District? Look after your money! Choose the right agent to get the best price for your home.
MAKE THE RIGHT CHOICE
If you're looking to sell a house in central Lancaster, you probably have a lot of questions. How long will it take to find a buyer? Should you redecorate or work on the house before you sell? If you're a landlord, what should you do about sitting tenants? Choosing the right agent is key. Houses are bought by home owners or investors. The reason Mighty House won Best Estate Agent in Lancaster for the last two years is not just because of our excellent service but because we understand the likely buyer and therefore how to achieve the best possible price. We have achieved market leading prices for our clients.
GO WHERE THE BUYERS ARE
If you want to sell your house quickly and for the best price, you need an agency with buyers who are ready and waiting. Mighty House not only work with buyers looking for a home for themselves but also work with investors who are looking to buy new properties and who are based throughout the UK. They come to us for our advice and trust us. Our specialist investment division is unique in Lancaster and no other Agent can offer the same level of experience, knowledge and range of services. GET THE BEST ADVICE You might think you need to do some work before you put your house on the market. Perhaps you think you should repaint or fit a new bathroom before you sell. And if you currently rent out the property then is it best to sell with or without tenants? "You're probably wondering if you need to spruce it up first," says Peter Charnley of Mighty House. "Don't get hung up on these decisions – just come in here and talk to us before you do anything. Taking advice first could save you considerable wasted time and expense. We'll get together a strategy that will get you the best price for your house."
SAVE MONEY WITH THE PROPERTY EXPERTS
Not only can Mighty House tell you if any work is actually needed on your property, the team can also take the hassle out of getting any necessary work done. They oversee anything from minor cosmetic repairs to major refurbishments, and have a team of trusted, professional tradesmen they can call upon. We are currently project managing over £300,000 of works across many houses from replacing a bathroom to refurbishing full houses. "Don't do anything until you get our advice," says Peter.
A REPUTATION FOR EXCELLENCE
Since Mighty House moved into its Bowerham over four years ago, the agency has built up a reputation as the agent to trust for buyers looking to grow an investment portfolio of rental houses. Peter says: "We get so many testimonials from customers thanking us for our help and courtesy when selling their house, and we have landlords and property owners who entrust us with a lot of responsibility for their property. "It's important to us that we give the best service that we can – the kind we would want to receive ourselves."
TRADITIONAL SERVICE, UP-TO-THE-MINUTE TECHNIQUES
Mighty House is owned and run by professional chartered surveyors, and the team has over 50 years of combined property experience. The Bowerham team uses advanced Estate Agent software to target the right buyers for your home – and offers traditional courtesy and genuine, no-nonsense professional service. Whether a vendor selling a house or a Landlord, you'll work with a specific member of the Mighty House team to keep you fully informed throughout the process, and you'll get regular feedback from viewings, advice and helpful ideas.
EVERYTHING IS TAKEN CARE OF
The agency oversees the whole process of selling your house – marketing, conducting viewings, instructing solicitors – right through to handing over the keys. With Mighty House, you get everything you'd expect from a top estate agency – comprehensive online marketing, newspaper advertising, accompanied viewings, sales negotiations and dealing with solicitors.
MANAGING YOUR PROPERTY
If you're buying property to rent, Mighty House can manage the property for you – in fact many investors who buy from Mighty House then hand over the reins for the agency to find and deal with tenants. With more than 230 student houses managed by its student letting division, Mighty Student Living, and over 100 conventional residential letting properties on the agency's books, Mighty House has a wealth of expertise. Already most of the student properties they manage are fully let up until July 2019. 01524 548 888 | [email protected]