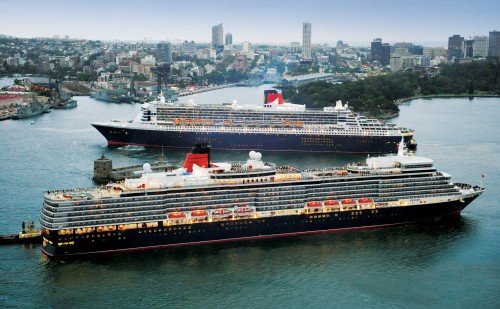 Local cruise company Cruise Connections have moved to Storey House at White Cross and with free parking just outside, it has never been easier to pop in for a chat and book your cruise.
Cruise Connections Ltd are proud to announce that they are now happily resident in their new premises on the top (4th) floor of Storey House at White Cross in Lancaster. In a bright and airy space, all of us are now together in one office. With a separate dedicated client room for those who wish to discuss their holiday requirements in person and free parking (you do need to go to Reception for a Visitor Pass) just outside, plus a very convenient lift to the top floor – or stairs for anyone who is in keep fit mode – there is no excuse not to visit! As is customary – the kettle is always on.
With P&O and Cunard having recently launched their 2017 World Cruises and World Cruise Sectors, now could be the time to plan ahead and book a trip to the places that you have always wanted to see. Your 'bucket list' could come to fruition with the click of one button (on the lift) – or a few, if you ring us. There are so many places to see in the world, and cruising is one of the easiest ways in which to do this: you are looked after from the moment you step on board until the time you go home. No cooking, no bed-making, no cleaning … NO HASSLE!
If you don't like flying (or cannot fly for health reasons) a cruise is the ideal way of dealing with this as there is a whole host of UK ports to sail out of and, significantly for us in the North, these include Liverpool, Hull, Newcastle, Greenock, Rosyth, Leith and Dundee. If nothing suits from these ports, Southampton is easily accessible by coach and there are many other UK ports where a huge variety of cruises depart from.
We have a large selection of cruise brochures in house, and deal with all the major ocean cruise lines – P&O, Cunard, Royal Caribbean, Celebrity, Seabourn, Silversea, Regent Seven Seas, Holland America, Fred. Olsen, to name but a few. As well as the discounts being offered for world cruise passengers at present, there are many other offers available and we would help you find the best to suit your requirements.
We also deal with most river cruise companies including Viking, Uniworld, Scenic, AMA Waterways, Emerald, Riviera and the River Cruise Line, which means that as well as travelling the world by ocean you can now visit all manner of destinations by river as well. River cruise ships can explore countries more intimately by getting into the heart of the countryside and discovering cities away from the coastal areas accessible by sea. Taking fewer passengers, these ships are extremely well appointed and compact, very friendly, and entertainment on board reflects the itinerary being undertaken at the time. You could be listening to a local string quartet or choir, watching a magician, or taking part in a quiz to check your local knowledge acquired. Many of these companies also include drinks, shore excursions and gratuities on board, which means that once your holiday is paid for before you go, that's it … nothing else to think of apart from enjoying yourself!
As well as providing the best cruise ever, we can also enhance your experience by combining this with the opportunity of fully immersing yourself in the culture of the places you are visiting. Cruise the Alaskan coastline then join the Rocky Mountaineer train for a scenic trip through the Canadian Rockies; add an Arctic expedition to a cruise around Greenland; travel by train across America having cruised across the Atlantic; follow a trip along the coasts of New Zealand and Australia by a visit to Ayers Rock or a dive at the Great Barrier Reef; sail to Cape Town, and assuage your taste buds at the wonderful vineyards in Stellenbosch, or drive down the Garden Route to Port Elizabeth; join the fun at the Rio Carnival. The choices are endless, and the choice is yours!
Between us here at Cruise Connections we have many years of experience, a vast knowledge of cruising, plus a need to help our clients find their perfect holiday.
Ring us on 01524 771701 and get the ball rolling.