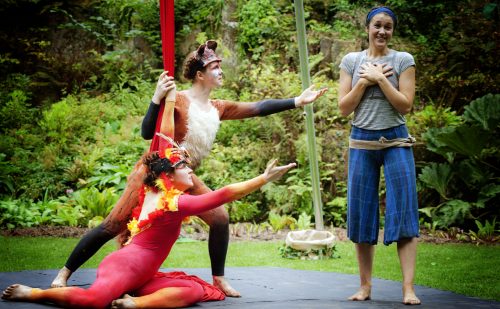 During August, Lancaster Arts has supported local dance company TurnAround Dance Theatre in developing their family-friendly production of 'The Thief, the Fox and the Phoenix.'
TurnAround Dance Theatre is a local Lancaster company consisting of sisters; Ellen, Grace and Lily Turner. Whilst being inspired by their rural upbringing and reflecting on their unique family bond, the company uses these experiences to create a brand new folk inspired circus and dance show.
Following initial local performances at Arkholme, Halton and Lancaster's Williamson Park the company received public funding from the National Lottery through Arts Council England to tour the production across the UK. Lancaster Arts were delighted to support the Turner sisters in developing their family-friendly production for a national audience. This crucial artist support underpins Lancaster Arts' national reputation for connecting ideas, creativity and people.
Leo Burtin, Creative Development Producer at Lancaster Arts, commented: "We are proud to be able to support local talent to developing their practice in Lancashire. Turnaround Dance's work is set to wow audiences all over the country. Our artists contribute to showcasing the region's creativity and dynamism, reminding us that we have nothing to envy the big cities for."
Grace Turner said: "Lancaster Arts have been hugely supportive of this project and we couldn't have made it without their generosity. Being hosted in their beautiful studio space was the perfect environment to enhance our creativity and physically fit our large aerial rig."
The culmination of the support will be a free preview performance of 'The Thief the Fox and the Phoenix' at Lancaster Arts at 6.30pm on the 14th September. This will not be the first time the sisters have performed on campus as they used to take part in dance competitions within the University's Great Hall!
The preview performance will blend live aerial circus, dance, humorous characters, beautiful songs and live story telling we follow a lonely boy and his furry fox friend, on their quest to find the enchanted Phoenix. Will they overcome jealously and temptation to save the forest and all the woodland creatures?
The show is suitable for ages 4-8 and their families. A free ticket must be obtained, either by calling 01524 594151, or visiting
www.lancasterarts.org