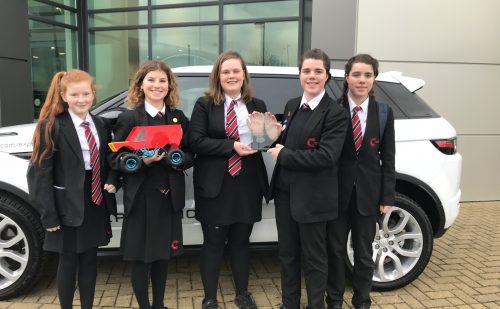 Award Winning Central Lancaster High School Girls Lead the way at Land Rover Engineering Regional Finals
Five students from Central Lancaster High School have received an award at the Land Rover 4×4 In Schools Regional Finals.
September 2017 saw Central Lancaster High School launch its Engineering Club, giving students the opportunity to further their learning on an extra-curricular basis. The weekly club has become very popular within the school, working together to develop the students' design and production skills using key technologies in the Technology department. The school have recently developed a new Technology workshop to support the curriculum development, and students are very interested in the possibilities which it brings through 3D printing, laser cutting and computer aided design. Due to its popularity and achievements within school, the students were invited to attend the Land Rover 4×4 In Schools Regional Finals.
The Land Rover 4×4 In Schools Challenge requires students to build a radio controlled four-wheel drive (4×4) vehicle to the specifications provided by the International Rules Committee. The vehicle must successfully navigate obstacles on an off-road test track, emulating the capabilities of a full size 4×4 vehicle.
The students completed four tasks as part of the Finals, including an engineering make task, a driving test, a presentation and a portfolio. The students' final vehicle was inspired by the RNLI, which saw them go on to achieve the Presentation Award for the Entry Class Group.
Head teacher Nicola Hall said, "We have recently introduced Design Technology to our curriculum and this has inspired our girls' engineering club. I am thrilled with their success at this important regional competition and very proud of our team. We are continually developing our STEM curriculum offer (Science, Technology, Engineering and Mathematics) and encouraging girls in particular to be inspired in these fields."