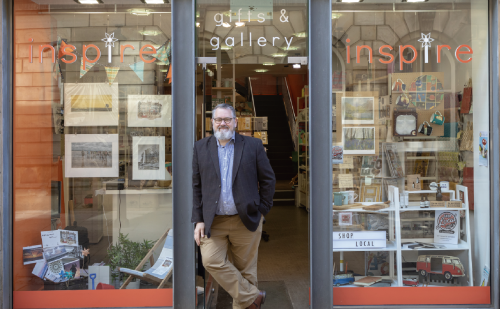 Lancaster District Magazine find out more about local independent shop & gallery owner Graham and his very interesting shop 'Inspire', on New Street in Lancaster.
What is the shop like?
The shops is fantastic, quirky, different – my customers words, not mine. I think sometimes because you see something day in day out its easy to stop seeing the magic that's there. Fortunately my customers remind me every day how much they love the shop and that really matters a lot to me.
I try to find different things that other local shops won't have. If you pop into the shop you will find everything from bath and body products (our Plum & Ashby hand creams are always a popular choice)to table, desk and floor lamps. We have plenty of special presents for new babies and christenings as well as fun educational toys for older children. There is a wide selection of stationery as well as some great desk and home office accessories. Of course we really shouldn't forget our great electronic items like the book-lights, sound activated alarm clocks and a large range of aroma diffusers.
Tell us about the gallery
The gallery was always a plan in my mind but when I first viewed the shop I could suddenly see it as being a reality. The space is amazing and when you walk up the staircase into it you really get a sense of it being something quite different for Lancaster.
Our solo exhibition gallery is The Haselgrave Room, named after a relative who was a watercolorist and book illustrator during the early 1900's. We are lucky enough to live in an area filled with artistic talent and I am constantly getting artists approaching me to exhibit their work. There are currently eight artists with work in our main gallery and at the moment we are preparing for our second solo exhibition which will run through to October.
How have you found starting a shop in Lancaster?
Fun, challenging, exciting, stressful, rewarding and full of unexpected surprises. The responsibility of having a shop is immense and certainly not for the feint hearted. But I wouldn't have it any other way. There is still so much to learn and I don't think I will ever stop learning, The high street certainly has its challenges and sometimes red tape can get in the way of a good idea, but we have had great feedback from our customers and Lancaster BID have also been a big support.
Do you think local people are passionate about supporting local shops?
From the comments we get in the shop I know people love independent shops and I think people are in general quite supportive and very conscious of the changes the high street, as well as the challenges small businesses are facing.
If you could choose 3 gifts from your shop to take home what would they be?
Difficult question, I am slightly biased as I choose all the stock so, by default, I love everything. But if I have to narrow it down it would include the rCup, a lovely insulated coffee cup made out of recycled coffee cups!, I just love the styling of them as well as the eco credentials. Next I would have to choose the Time and Tide Clock. As I live only 5 minutes walk from the sea it's perfect for making sure the tides out so I can enjoy the feeling of sand between my toes. Lastly I would have one of the Block pegboards, with all the accessories too! You can never be too organised and this is the perfect and on trend way to do it.
Photography – Nick Dagger
Inspire Gifts & Gallery feature in our Summer 2018 SHOP LOCAL GUIDE: