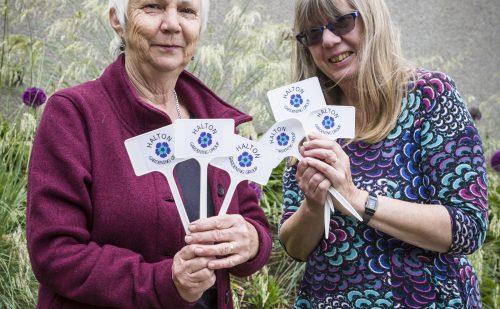 Photos © Nick Dagger Photography
The Halton Garden Club is taking part in the National Garden Scheme and on the weekend of the 3rd and 4th of June Halton Garden Safari will be opening up a number of gardens to enjoy.
90 Blooming brilliant years!
Since 1927 the National Garden Scheme has been inviting garden owners to open their little bits of England, Scotland, Wales and Northern Ireland to the public to raise funds for good causes. Gardens that would normally be enjoyed by just private individuals have been opened allowing the public access to some of Britain's most beautiful, memorable horticultural plots for just a modest fee, and refreshments are often thrown in!
Over the last 90 years, the National Garden Scheme has donated over £50 million to charities and good causes across the UK but nationally community groups are opening their gardens to raise money for local causes too.
Spring has sprung!
Spring is often the best time of the year to see a garden at its most beautiful, trees are coming into leaf, spring flowers a myriad of vibrant colours and their perfumed scents at their most wonderful. Over the next few months, all across our green and pleasant land, gardens, large and small, formal and unconventional are opening their gates to the public to share their little bit of horticultural heaven with those of us less green fingered and our area is no exception.
The Halton Garden Safari!
Run on more informal lines that the NGS, this year's Halton Garden Safari will nevertheless offer some brilliants gardens for visitors to enjoy as it opens its gardens to the public on Saturday 3rd and Sunday 4th June 2017 at Halton near Lancaster. Running for two days between 11.00am to 4.00pm this year there will be sixteen gardens opening their gates to visitors, and this year the Safari sees non-garden club members opening their plots too.
"This year the Safari has some very varied gardens on show, we've got some small gardens, some gardens with beautiful views and even some allotments!" says Ann Wilson, Chair of Halton Gardening Group, "and we've even managed to get non club members involved too. We're lucky that there is a very strong community spirit in our village." The Halton Garden Club was formed in 2012 and ran its only other Garden Safari in 2014, which was fully supported by Halton Parish Council.
An open village
"The event in 2014 was a great success for our small village attracting 190 visitors. This year we hope even more people will come to see our beautiful village. Both our churches are opening, on alternate days, there are events taking place in our community centre which will also be home to a variety of stalls, and there will be refreshments in our café and our newly refurbished village pub, The Greyhound.
Amongst other things, the Halton Garden Safari will be raising much needed funds for the Halton Community Centre which is entirely self-funded." Halton expects to see visitors from across the North of Britain and maybe from even further afield at the beginning of June, "we're proud of our village and the Safari allows us to share our beautiful surroundings with everyone."
Looking after the whole of Halton
But the Safari isn't just limited to what's inside the garden gates of the participants, "the gardening club also looks after the village burial grounds, the memorial, the entrances to the village and the verges that surround Halton. We've especially been trying to plant flowers that attract insects and bees." And the aim of this year's fundraising? "each event is trying to raise funds for the community of Halton, the Community Centre, to buy gardening supplies and we're hoping to raise enough money from this year's event to buy a new, self-watering planter for the village bus stop." Entry to Halton's beautiful gardens costs just £3.50, which is valid for both days, with children under 12 allow in for free. Visitors can buy tickets/maps on the day of the Safari at any participating garden marked with yellow balloons. Maps are also available at The Halton Community Centre. For anyone inspired by the Safari gardeners there will be a few plants for sale at some of the gardens so you might just be able to start your own community gardening event!
More Information
For more information about the Halton Garden Safari please visit; www.haltoncentre.org For more information about the National Garden Scheme please visit the NGS website www.ngs.org.uk or download the free NGS 'GardenFinder' app. North of the border, Scotland's Gardens www.scotlandsgardens.org runs a similar open gardens scheme to raise money for charity and in Northern Ireland, the Ulster Gardens Scheme www.ulstergardenscheme.org.uk also holds open days to help raise funds to support work in National Trust gardens in the province.