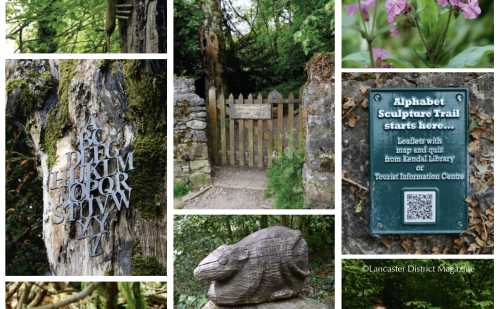 Tucked away behind a quiet residential street in Kendal lies the Alphabet Trail. A beautiful meandering walk through the Serpentine Woods that follow a trail of 26 outdoor sculptures that depict letters of the alphabet.
A will grow one day into a great tree.
B has the most beautiful wings you will see.
C has a name that means one hundred feet.
D bounds through the trees on hooves fast & neat.
E soars up high on her powerful wings.
F can do wonderful magical things.
G is like a door. You may wish to pass through.
H is a bird and a fisherman too.
I clings to a rock- a good place to grow.
J can be heard in the Christmas time snow.
K is a toy that flies higher and higher.
L must fly home. Her house is on fire!
M is a bird that's half black and half white.
N is the home from which small birds take flight.
O is a bird much wiser than most.
P is a plump bird some like to have roast.
Q is a mark after words such as When, Where and Why.
R is a small pest with bright beady eyes.
S frightened Miss Muffet – might frighten you.
T a dark place that the train passes through.
U will protect you from any sharp shower.
V is well known as a shy shrinking flower.
W in the breeze make a beautiful sound.
X sweet music abounds.
Y goes up and down giving hours of fun.
Z the end… now your alphabet is done.