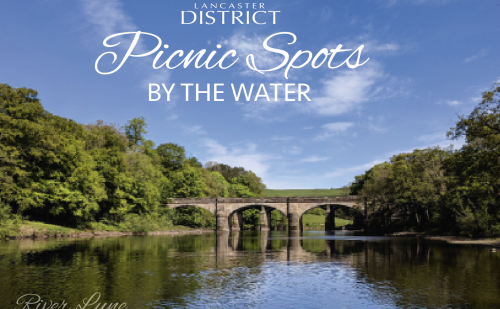 As the beautiful summer continues can there be anything more enjoyable than enjoying an alfresco treat by one of our lovely rivers, tarns, canals or shores? Features Writer Rob Bullock selects some inviting spots in and around our region to tempt you to have a picnic.
The light nights may be drawing in a little but late summer with its hotter days and balmy evenings are the perfect time to enjoy a relaxed picnic by water. Sitting in the shade under a leafy tree, the breeze gently blowing off the water, surely there is no better place to sit and relax with a hamper or bag full of your favourite treats and our area is blessed with a variety of choices.
BILSBORROW CANAL SIDE
If you're not a big fan of the hustle and bustle of locks then Bilsborrow, on our very own Lancaster Canal, might be the perfect place for you to enjoy a riverside picnic. Bilsborrow boasts over 40 miles of uninterrupted canal running through a beautiful landscape, making it the perfect spot to unwind and enjoy your local waterway.
The area is brimming with historic architecture, including a stunning 15th century barn, canal basin and aqueduct. If you don't want to take your own food then you can relax in a riverside café, pub or restaurant, or take a gentle stroll and become immersed in the historic surroundings.
INGLETON RIVERSIDE
Ingleton is a picturesque Dales village where the River Doe and the River Twiss meet to form the source of the River Greta whose beautiful banks offer some of the best riverside picnicking in the area. Park at the community centre car park and take a short stroll in the direction of the old aqueduct, continue left down the hill following the signs for the swimming pool. There are plenty of picnic tables and well-manicured lawns where you can spread out and enjoy the gentle trickle of the river as it meanders slowly west.
SMUGGLERS COVE – SILVERDALE
The romantically named Smugglers Cove brings to mind a time long gone and as you sit and enjoy your alfresco meal you cannot fail to appreciate what a lovely place this is to spend some time on a summer's day. In an area where there are very few quiet, safe, and easily accessible places to get down to the shoreline and relax and enjoy a picnic, Smugglers Cove is perfect. There are plenty of wading birds to watch feeding out on the bay, and little caves and cliffs to explore.
CROOK O LUNE
Crook O' Lune picnic site is an eternally popular and attractive spot and it has accessible toilets which is always a plus. It is situated where the River Lune travels a big curve through tree-lined banks and was the inspiration behind some of the most famous works by artist JMW Turner. If you don't want to take your own food, you can buy tea, coffee, sandwiches and snacks nearby.
ARNSIDE PROMENADE
Arnside is one of the many places in the Lancaster District that you can fully appreciate the diversity of the spectacular scenery that we have in this area. Sitting on one of the many benches that line the promenade you can't help but feel blessed by the stunning views. There are sand banks for the children to run around, water for the dogs to swim, birds to admire and trains to watch, heading over the famous Arnside Viaduct. If you have forgotten your picnic, fear not, there are many eateries offering equally stunning views and fabulous local food.
RIVER LUNE AT KIRBY LONSDALE
Although a perfect place to enjoy a picnic by water, the River Lune at Kirby Lonsdale can become extremely busy, especially at weekends. It is however, easy to get to with some free parking and toilets close by. You can take your own picnic or enjoy a snack from the nearby kiosk. This picnic spot does have one of the most stunning river walks adjacent to it, the short walk up the side of the Lune to Ruskin's View, which the Victoria art critic once described as 'one of the loveliest views in England, therefore in the world.'
LOUGHRIGG TARN
If you want to travel just a little further, Loughrigg Tarn near Ambleside is certainly a place to consider for a lovely picnic by water. It is a beautiful small tarn, and because it is small the water can get relatively warm to allow toe dipping. The tarn sits under the impressive skyline of Langdale Pikes and make this one of the most picturesque alfresco dining locations in the country. Where ever you chose to go for your picnic by water, and whoever you decide to go with, our region is blessed with some of the best places to enjoy in the whole of the country – enjoy!