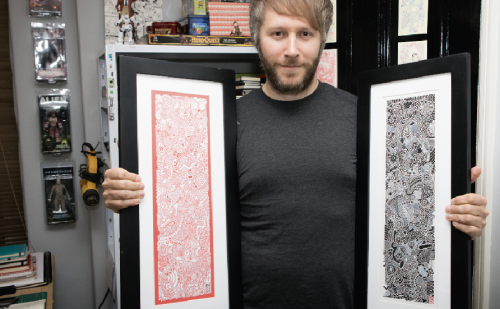 Local artist and world builder, Terry Rawlinson might live in a house on a windy hill, but this doesn't stop his work from being jam packed full of detailed wonders and his inspiration often comes from close to home…
For Lancaster born artist Terry Rawlinson, inspiration is all around him, not least from his house which is on top of a very windy hill, the name inspiring his website. It comes from all around him, from the people he sees in his daily life as a sign maker, and the movies he's watched in his precious spare time, to the books and comics he enjoys. The artist even carries a sketchbook with him at all times just to makes sure he doesn't miss a thing.
"It's true I do, I don't like to miss anything so I carry a notepad with me everywhere I go," says 37 year old Terry who is married to his manager and biggest fan Jessica. The pair have a three-year old daughter Luna who also provides lots of inspiration;
"I know it sounds cheesy but Luna really does inspire me. We quite often make up stories at bedtime, rather than read from a book, and she has some surprisingly good ideas now and then."
Anyone who has seen Terry's amazing art work couldn't fail to agree that he's full of inspirational ideas;
"I really love the world building type of design," he explains, "this is where I create a new world full of characters and then start creating back stories for each of them. It's very detailed work."
But where does Terry start when he's creating a whole new world full of characters?
"An idea can come from just about anywhere," he says, "for example about a year ago I seemed to keep losing my socks, as you do, which is really annoying. Anyway, I started to wonder where all my socks might be going and this grew into a project and stories based upon missing socks! From small acorns…"
Heavily influenced by Japanese artists such as Katsuhiro Otomo and Hayao Miyazaki. This oriental comic influence means there is an attention to precise detail that can clearly be seen in Terry's creations like Bear House and Fox Town. If you spend some time looking at the minute details you will discover more and more in the pictures and find yourself understanding how impressive our local lad's skills really are.
Terry doesn't just work on his own, coming up with the ideas and then creating the worlds, at the moment he is illustrating a book for children by a Cheshire based author; "this writer was a friend of a friend and I really liked his work. Over the months, he kept sending me various drafts and for the two main characters I created around ten concepts, the author then told me which he preferred and I got to work creating the worlds for the concepts he'd chosen. Apart from world building I really enjoy this kind of character design."
Although his work is varied and eclectic, Terry prefers to limit the number of projects he's working on at any given time; "generally I'm just working on two projects at a time. I like to work just on a project for someone else and then one of my own and leave it at that."
"I plan on doing a lot more sculpting, I've put some examples on my Facebook and Instagram pages where I'm under House on a Windy Hill. And I'd love to work on more commissions," he says, "I've recently designed a 'steam' world which is on wheels and moves around. I want to continue to develop my work, ultimately with a view to having an exhibition of my own."
Examples of Terry's inspirational artwork can be seen by visiting his website, the curiously named www.houseonawindyhill.com , and on Facebook and Instagram, but why choose such an unusual website name? "I chose House on a Windy Hill because to me it conjures an image of a strange and eccentric man, living in a mysterious house, creating fantastical worlds. That, and we actually do live on a hill, in a house, and it's quite often windy."
Most people would not describe Terry as strange and eccentric, though he may be both of those things, perhaps 'a man with a mind full of wonderful and whacky ideas' would be a better description.
Please visit Terry's website www.houseonawindyhill.com to get a small taste of the eclectic artwork of Terry Rawlinson.
Photos by Nick Dagger Photography