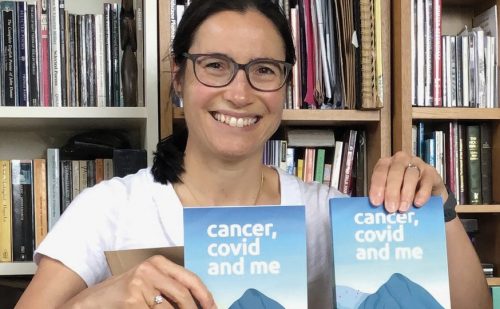 Marisa Wray from Kendal has documented her journey of Cancer during covid by writing a book. Marisa is a local consultant Psychiatrist, runs the psychiatry programme for medical students at her local NHS trust and     co-directs year 3 at Lancaster Medical School. Marisa is donating 50% of the royalties of her book to charity.
A shock diagnosis
Would you sacrifice a part of your body to save your life? Of course, you can do without a breast, it's not like an arm or a leg, or even a liver. Nonetheless, it came as a shock to Marisa to hear that she had breast cancer and that a mastectomy was the only treatment option. As luck would have it, she would have plenty of time to come to terms with her loss. It was April 2020 and no 'elective surgery' was taking place for the foreseeable future due to COVID-19 lockdown. How do you stay sane during the indefinite wait for a mastectomy, all the while knowing that you have a cancer growing in your breast which you  can do nothing about?
A zest for life
Marisa's memoir, Cancer, Covid and Me describes how she did just that. From engaging with online cancer forums, seeking counselling from Cancer Care, throwing herself into wild swimming, and guided meditations, Marisa journals how she reached out with all her might to find solace and encouragement during her seemingly interminable wait for surgery. In doing so she found that her zest for life did not let her down. As a doctor herself, she hated her own feeling of powerlessness and lack of control. To counteract this feeling she did what doctors do – read up on her diagnosis of widespread DCIS with probable invasive foci, and made extensive notes. The book, which formed part of her recovery, is at once a journal, an informative read about breast cancer diagnosis and treatment, and a historical record of having cancer during the time of Covid. She hopes that her book will help others who are grappling with breast cancer.
An extract from the book   'Cancer, Covid & Me'
'The sun sparkles on the water of the river Kent. I'm sweating, I walked fast to get here. Do I dare? There's no one around. The riverbank is deserted. I'm in a sunny glade, a break in the trees where limestone slabs slope gently down into the water. It's very inviting. Right, nothing else for it. Off with my clothes and in I get. Ah! Gasp! Swim! Cold water bites at every inch of my flesh. Oh, it's wonderful! 
I swim one hundred metres or so upstream. I haven't forgotten how to do breaststroke, though it's been a while. Take that, bad boob! Before I get out, I take a selfie of the inane grin plastered across my face – nothing can wipe it off. My skin is tingling. I'm zinging. Oh yeah!'
The book has 5* ratings on Amazon with reviews such as: 
'This is an open, honest and extremely well written account of experiencing cancer in the time of Covid-19. Everybody involved in health care ought to read this book.'
'It is not often that breast cancer gets such a personal and deep explanation of the process from discovery to treatment.'
Marisa's accessible writing style and frank and often humorous prose aims to raise awareness of breast cancer, particularly in women below screening age. She is so thankful to the charities which helped her cope with her diagnosis and beyond. She is donating 50% of all book royalties, equally split between her local Cancer Care and Breast Cancer Now. Cancer, Covid and Me is available on Amazon HERE.
This article is one of many local articles published in Lancaster District Magazine, read HERE.