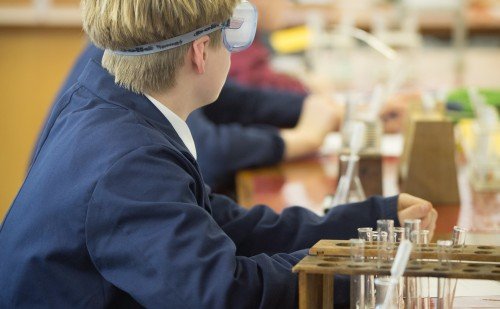 Dr Phillip Hoskin, Housemaster and Chemistry Teacher at Casterton, Sedbergh Preparatory School explains why it is vital to develop and nurture scientific curiosity, with specialist Science teachers, from as young as Year 3.
Children are natural-born scientists. They are curious about the world around them, ask lots of questions, and love the process of discovery. This inquisitiveness and eagerness to explore is a fantastic basis for turning children on to Science.
Having confidence to put on a white coat, goggles and the importance of experiments at school has been in the news recently. Science is under scrutiny but Brunel University's Vice-Chancellor, Professor Julia Buckingham says that practical work should not be an add-on;
"it is an integral part of Science and encourages children to question, to explore – it excites them."
Echoing advice from the Royal Society's 'Invigorate' website, which aims to bring science to life, we find that, when children are allowed to experience the practical side of the subject, it is great fun and we know that having the confidence to experiment from a young age, impacts significantly on success and motivation.
What difference does it make to have Science teachers who have industry experience? Most pupils, in most schools, enter a laboratory for the first time in Year 7. Ours start in Year 3. Whether it is dissections, explosions or building cities of Lego and lighting them up with series and parallel circuits, the experience we bring makes the subject relevant. We draw parallels with Commercial Science and the real world and we look to nurture natural inquisitiveness. When I was studying Chemistry, I had no idea why it mattered; I just enjoyed it. Whereas, our pupils recognise that the skills they acquire will, ultimately, be applicable in a commercial setting.
Research projects have also included: the synthesis of aspirin and the production of esters. The classroom preparation of this particular drug was prompted by my years at Bayer as a Process Development Chemist. During this period, I worked in the Hoffmann laboratories where aspirin was first produced. Our Year 8 pupils not only made this analgesic drug but also presented their research to an audience, which included sixth form chemists.
Chemists need to have a sound theoretical and practical grasp of the subject but ideally, this should also be underpinned by a good understanding of Mathematics, Physics and Biology. Chemistry teaching must reflect this, along with considerable emphasis on developing core practical skills from an early age. Here, we cover the Common Entrance syllabus, but we are not shackled by its narrow confines and thus we cover an awful lot more. This approach, ultimately, equips our pupils with all of the requisite practical skills used up to and including Year 12.
I regularly draw parallels with school and Commercial Science in lessons. For example, my pupils appreciate that the methods used to grow crystals of Copper Sulphate are equally applicable to controlling the dimensions of biologically active compounds. The chromatography of leaves or sweets can also be used as a method in forensics and drug-testing in sport. My approach also ensures that our pupils are given an insight into the various job opportunities within the Science Industries at an early age.
It is this question of age that is so important. The Cardiff University award-winning spinout company, Science Made Simple, is a spinoff from the National Science Academy which is designed to support STEM education in Wales. Dr Hayley Gomez, an astrophysicist and a director of this company, says;
"We now know that the way young children think is very similar to the way a scientist thinks, primary children like to test why things happen in an informal way and learn from watching and listening, linking different things together."
We introduce young children to the idea that being a scientist is not just about sitting in a laboratory all day. To be a great scientist you need creativity and imagination to be able to ask interesting questions and find new ways of solving problems. Scientists also need to communicate their findings to other people, whether by writing, drawing pictures or diagrams, or even by going on TV! Our pupils also have the advantage of instant access to superb fieldwork sites in the beautiful woods, streams and fields surrounding the School and indoor learning from Year 3 could be in any one of six state-of-the-art laboratories. We have an abundance of glassware, including quick-fit apparatus and a chemical inventory that rivals any leading senior schools' facilities. Children of all ages love to walk down the fabulous glass corridor where work and models are displayed. Investment in Science at a young age is not only vital for schools; it is vital for the future generation of scientists and must begin early.