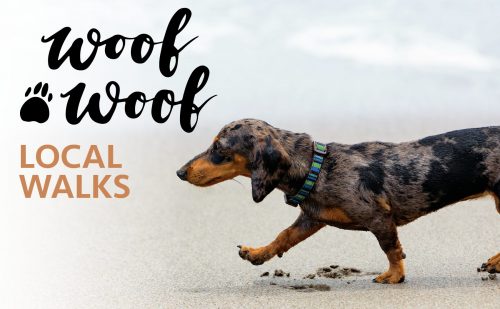 Autumn is the best time of year to enjoy a dog friendly walk in and around Lancaster District. Here is a small selection to inspire you to get out and about.   
The days are getting shorter, but the sun is still warm, the temperatures pleasant and the views magnificent, and now many of the holiday visitors have returned home it is the perfect time to enjoy a lovely autumn walk with your best friend. Here is a small selection from in and around our beautiful area. 
     Haslam Park, Preston 
Haslam Park is splendid at this time of year, with its tree lined entrance and acres of open space. Running alongside the canal it is home to a number of original features such as an old drinking fountain and ornamental lake.
There is a nature reserve also located within the park and rose gardens, meadows and picnic areas to be explored while your dog is kept on a lead. For the opportunity to stretch your dog's legs, the 6km walking route and designated areas within the park allow for well trained dogs to run freely.
    Warton Crag
Moving from the south to the north of our area, this is a fantastic dog walk.  You can either walk to the top of the crag or along the bottom through the forests which are spectacular in early autumn.  
The woodland areas are great to explore and there are plenty of different paths to take with some hills that can be tricky. There are some styles to climb over on certain routes, although many have gaps nearby for dogs to pass through. There can be cows on the lower route of the crag and horse riders do sometimes take their horses on the higher routes. There are bins for litter and dog waste.
     Settle – Feizor Loop
A favourite for many walkers, this eight-mile walk takes in the ancient and impressive Giggleswick Scar and some of the best views of the Dales and Bowland fells in the area. There is also a popular café to pause at the half-way point to have lunch or tea. 
This walk has everything. It starts with a pleasant riverside walk along the Ribble visiting Stainforth Force. It then crosses limestone moors before returning via Giggleswick Scar. There is only one steep hill but many stiles. So big, less mobile dogs might struggle but it is well worth a go. This walk is number 2603 on Walking Britain, where you will find all the details of the route.
   Langden Castle – Bowland
Langden Castle – which is unfortunately not a real castle, has a relatively easy four mile walk and is lovely to enjoy with your dog. This is a popular walk in Bowland as it takes you into the heart of the Bowland Area of Outstanding Natural Beauty where the scenery and wildlife are wonderful.
The land is all owned by United Utilities and dogs must be kept on leads from March 1 to December 10 each year.  Starting at Langden Brook Car Park this is a circular walk into the valley to 'Langden Castle' (a barn!) and back again. There is the choice of a high path and a low path half way up the valley.
   Williamson Park
Parks are at their best in early autumn and our very own Williamson Park is a wonderful place to walk your dogs and admire the ever-changing scenery. On a clear day you can see right across the bay into Cumbria.  But there is also plenty to do if the weather changes, if it is wet you can pop into the cafe or the butterfly house. It is nice to spend the entire day in the park or just a couple of hours to take in the views.   Walking from the Butterfly house down the main drive you will find a gate on the right hand side into the circular Fenham Carr woodland walk which is popular with dog walkers and bird spotters.
   Lune Estuary Footpath
This well maintained path is popular with cyclists and dog walkers alike. You could start at the Millenium Bridge Lancaster walking west along the road will lead you straight onto the footpath which can be joined or exited at several locations along the way, Aldcliffe, Stodday and Conder Green, before ending up at Glasson Dock. A well surfaced easy to walk on path with views across open countryside and the River Lune. Millenium Bridge to Glasson Dock is approximately 6 miles on the footpath.
   Grizedale Forest
Set in one of the most unspoilt parts of the country, Grizedale Forest, just three miles from the pretty village of Hawkshead has something for every walker, short, easy to moderate walks, to challenging strenuous hikes. There are several car parks to start from depending on which route you choose, and the routes are well marked out. 
There are numerous places to stop and admire the views and enjoy the peace and quiet but mid-week visits are advisable, out of school holiday time to get the most out of your visit for you and your best friend.
Lancaster District and its surroundings have a good variety of places to take your dogs, either for a day out or just a quick walk, and this time of year you can see the area at its very best. Please remember to always be aware of livestock in any fields you cross and always pick up after your dog.
Click on the image below to read the article in the Autumn edition of Lancaster District Magazine: