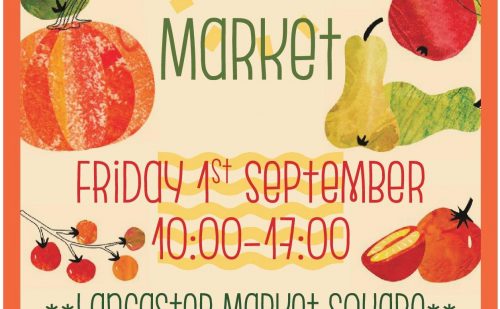 Taste seasonally-inspired recipes, meet local food producers, and discover Lancaster's bubbling local food and crafts scene at Lancaster's Harvest Market.
On Friday the 1st September from 10:00-17:00 Lancaster's market square will be bustling with local food producers, community food projects, music and local craftspeople, as LESS hosts Lancaster's Harvest Market for the second year running.
The market is part of LESS's ongoing 'Growing Our Local Food Economy' project, and aims to celebrate the harvest, the bounty and diversity of local food and crafts, and bring local farmers and small independent businesses into the heart of Lancaster.
In addition to stalls selling their wares, the Faces Behind Our Food art exhibition, www.lessuk.org/blog/the-faces-behind-our-food, will be brought outside to share the stories of 12 local food and drink producers (some of which will be participating in the market); and LESS will be handing out a variety of local food resources including Harvest recipe cards and community food trail maps.
Confirmed Harvest Market stalls include:
Claver Hill food project will be sharing info about their 'no-dig' veg, and selling a variety of no-dig veg, salads, herbs, chutneys, jams and pickles.
Cockerham Boers will be talking about and selling locally-reared goat meat, duck eggs and preserves.
Lancaster's Sewing Café is organising a clothes swap and will bring vintage sewing machines to Lancaster's market square – to support people to fix clothes. So bring clothes to swap AND clothes to mend.
Simply Country and Co will be selling a range of local cheeses and homemade puddings and desserts, some of which contain locally foraged berries such as rowan and elderberries.
Billy's Eggs from the Lancaster Charter market will be joining us, offering a range of local and free-range eggs.
The Firebird will be cooking up wood fired and seasonally-inspired pizzas.
Bowland Smoke House will be selling a variety of smoked fish and meat products.
Logs Direct will be taking orders for seasoned firewood.
James Greer will be making his infamous falafel wraps.
The Land Workers' Alliance will be discussing the Peoples Food Policy and will be handing out information about their work support small farmers in the UK.
The Fig Tree will be talking about and selling its range of locally-made and fairly traded bean-to-bar chocolates.
Lancaster's Peoples Café will be cooking up 'waste food' on a pay-as-you-can basis.
Anna Clayton, food project officer at LESS commented:
"Lancaster's Harvest Market creates a friendly forum that allows local residents to meet local food producers and crafts people and find out about the sorts of food and up-cycled crafts that are available locally. A number of exciting community projects are also attending that present new ways of doing things – from growing veg in a community setting, to running skill-share repair and sewing sessions and selling food on a pay-as-you-can basis. I hope for everyone that attends the market to learn at least one new skill or fact."
To find out more about the Harvest Market and the Growing Our Local Food Economy project:
JOIN the event's Facebook Page: s.coop/25vus
VISIT www.lessuk.org/blog
LIKE www.facebook.com/FoodOfLancaster
FOLLOW @FoodOfLancaster
EXPLORE LESS's local food directory www.lessuk.org/directory