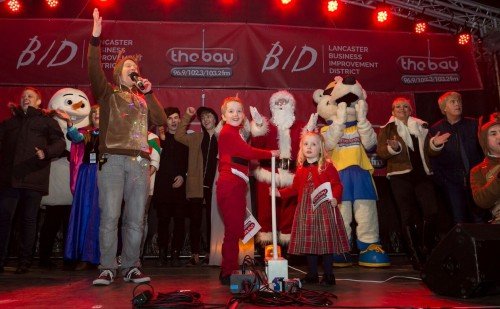 As you'll know last weekend saw this year's Christmas Switch on, but did you know that for the first time there are new Christmas lights displayed in streets that have never previously been included in Lancaster's decorations.
Whilst an estimated 10,000 people attended the event, organised by Lancaster BID and The Bay Radio the actual lights have, for the past few years, only been installed by the city council in Market Square, the bottom of Penny Street and Cheapside only.
Last year the Lancaster BID extended this to include New Street, New Street Square, Sir Simons Arcade, Ffrancis Passage and futher up Penny Street.
But now, the BID have further extended the scheme to include the top of Market Street, Church Street, and Upper Penny Street for 2015.
Liz Hickingbotham explained "It is our intention that these lovely new lights will encourage shoppers to shop on all of these streets during the festive season. It's part of our strategy to improve the street-scape of the city centre and lighting up as many shops as possible on these darker days is one way to make the shops and pathways more attractive to visitors".
This Christmas project ties in nicely with another scheme that the BID are managing. In the next few weeks, various shops are showcasing bespoke pieces of art in illuminated shop windows. Over 30 shops in the city centre are taking part and you can find them in Sir Simons Arcade, Moor Lane, Common Garden Street, Upper Penny Street and Gage Street. How many have you found?
Photo: Nick Dagger Photography