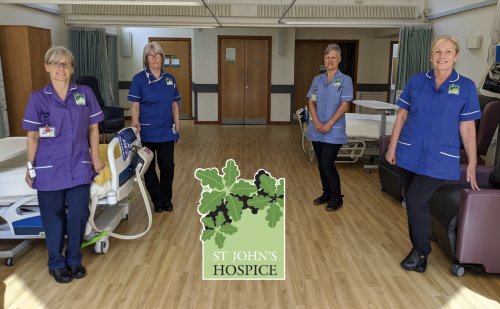 How is your local Hospice coping with coronavirus? We know how hospitals and GP surgeries are managing; we're starting to understand more about how care homes are coping, but a hospice? Read on to find out how a local charity that provides end of life care and relies on fundraising to do this, is managing in these difficult times. 
Adapting to changing times
The St John's inpatient ward continues to care for people as do the hospice at home and clinical nurse specialist teams who are still working in the community in patient homes. Changes have been made to adapt to the changing times e.g. nurses are working different shifts in different areas to make sure that patients still receive the care, compassion and support that they deserve. St John's has also extended its community work to support nursing and residential homes as well as bolstering GPs and colleagues by being part of a 24/7 on-call rota. 
Loss of income
The loss of income from fundraising sources is worrying; hospices have had some funding from the government but until they can open their café and shops safely, and run some of their famous fundraising events again their future are not completely secure. 
Community Kindness
St John's have said that the kindness of the community is helping to keep them going – donations of money to staff salaries, patient & staff gifts and even PPE have been received. 
Sue McGraw, Chief Executive, St John's Hospice recently said, "Dame Cicely Saunders was a pioneer in hospice care and initiated the hospice movement. One of our nurses found this quote from Dame Cicely, which is absolutely relevant to these times: 
"We cannot take away the whole hard thing that is happening, but we can help to bring the burden into manageable proportions."
Sue McGraw added, "St John's Hospice works as a team with its wonderful community – we wish everyone well in our local communities through these times. We will continue to do all that we can to keep caring for people who need pain and symptom management or end of life care.
The hospice website: www.sjhospice.org.uk  is regularly updated with information about visiting arrangements and bereavement support for families affected by COVID-19.